How Europe Can Optimize Its €800 Billion Offshore Wind Investment
August 30, 2021
|
2 minute read
Europe knows that now is the time to harness the potential of offshore wind. In late 2020, the European Commission presented a strategy that aims to increase offshore wind capacity in Europe to at least 60 GW by 2030 and to 300 GW by 2050.
Prior to announcing the 300 GW target in November 2020, the European Commission said that between 240 and 450 GW of offshore wind power would be needed by 2050 in order to keep temperature rises below 1.5°C.
Current capacity in Europe is around 25 GW. To reach the aforementioned targets, the continent's capacity will need to more than double by the end of the decade and grow ten-fold within the next 30 years. Massive investment will be needed to achieve these ambitious targets—an estimated €800 billion ($945 billion), according to the European Commission.
More than ambitious investment will be required to meet these goals. Governments, NGOs and private companies will all need to work together to ensure that investments are made effectively and for new offshore plants to produce the most energy. To that end, Wind Europe has identified where it believes the investment in new offshore wind capacity should be directed, outlining the geographic locations that are best resourced for offshore wind plants.
Siting for Success
Using the 450 GW figure, Wind Europe devised a plan for selecting sites for the new capacity. According to their analysis, which calculated prospective capacity by considering the quality of wind resources, the proximity to demand, as well as supply chain efficiencies, Wind Europe suggests the 450 GW of new capacity should be distributed as follows: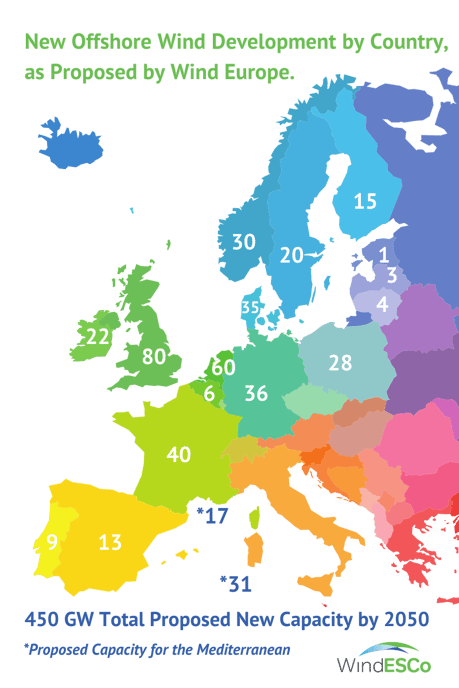 Getting the Most from European Wind Energy Investments
In addition to smart siting, emerging technologies and data science will be required to make the most of the €800+ billion investment for offshore wind in Europe. Lessons learned from the maturing onshore market can, in some cases, be considered for offshore application, including the detection of anomalies and other underperformance issues that keep wind assets from achieving optimum AEP.
WindESCo's experts are working with our customers to prepare for this exponential growth in offshore wind investment. The road to net zero will be much shorter if every megawatt is captured. WindESCo's next generation solutions are able to improve AEP 3-6%.
Talk to us. If you want to improve annual energy performance and the overall value of your fleet, get in touch. We will help you find a solution.
---
Prospective Offshore Wind Capacity in GW per European Country
| | | | |
| --- | --- | --- | --- |
| UK | 80 | Sweden | 20 |
| Netherlands | 60 | France (Mediterranean) | 17 |
| France (excl. Mediterranean) | 40 | Finland | 15 |
| Germany | 36 | Spain | 13 |
| Denmark | 35 | Portugal | 9 |
| Mediterranean (excl. France) | 31 | Belgium | 6 |
| Norway | 30 | Lithuania | 4 |
| Poland | 28 | Latvia | 3 |
| Ireland | 22 | Estonia | 1 |