Europe is experiencing what experts are calling "the most extreme energy crisis" to date. Russia's natural gas supply accounts for around 40% of European energy. Russian gas cutoffs continue to challenge Europe's energy security, limiting energy supply and dramatically raising energy prices.
European countries fear for a winter of rationing, industrial shutdowns, and economic dislocation. Many countries like France and Germany are turning to emergency plans to account for lost energy supply.
Like most European countries, France's energy system is under pressure with electricity disruptions caused by the war in Ukraine. 20% of French energy is produced by renewables (8% is wind energy), though the country will need to produce more if they want to meet energy goals and compensate for Russian gas cutoffs.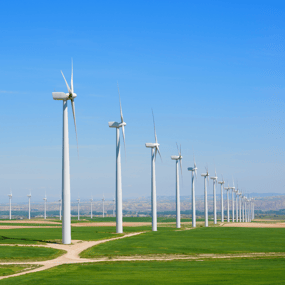 Wind energy is expected to account for €8 billion of France's revenue in 2022-23. Under Government-backed Contracts for Difference (CfDs), project developers pay Governments the difference between the State-guaranteed purchase price of electricity and the wholesale electricity market price, which is currently very high.
The French government predicts that 5-6 GW of wind energy and 6-7 GW of solar projects will not move forward due to increasing prices of materials. To help with energy supply in the meantime, the French government has taken "unprecedented steps to maximize renewable energy generation," announcing several emergency measures to boost renewable electricity generation ahead of winter.
New wind and solar farms will sell their electricity directly on the market for 18 months before locking in their CfDs.

Projects that have already won an auction may increase their capacity by up to 40% before completion.

The Government also plans to factor the evolution of raw material costs into CfDs.

The Oléron offshore wind zone in the south Atlantic ocean has been doubled to 2 GW. This will consist of 1 GW of bottom-fixed offshore wind and 1 GW of floating offshore wind.
To further increase the wind capacity in France, asset managers, wind farm owners and operators can optimize existing wind assets by leveraging SCADA data. Wind turbine energy production can increase by 1-2% with software alone using Find, Fix, Measure.
---
Wondering how your counterparts in North America are navigating the uncertainties of today's wind market?
Watch our webinar on Thursday, August 18th at 12:00 P.M. EST to find out.
Tune in for an open discussion between experts from BP Wind, Pattern Energy Group, Longroad Energy, and Siemens Gamesa.